Before we get into this blogpost, I just wanted to wish everybody a very happy new year! I know, I know, we're already days into the new year we all call 2017! However, I want to wish everybody a good year with health and a lot of love. I hope you all get what you wish for in 2017, including all the books your little bookheart desires! If you read this, I'm also already busy filling in exams on college so I'm sorry if I'm MIA on Instagram, my blog should still be posting a review each Wednesday. Anyway, let's jump into the post!
Since it's a new year, I think it was time to go check my Goodreads' want to read-list and see which books I really want to read in the new year. Of course, I want to read all of them, obviously but I wanted to pick 3 books that I really HAD to read in 2017.
1. The Winner's Curse by Marie Rutkoski
A book that's been on my reading list for a few months now is this book. The first time I came across it, I was absolutely mesmerized by its cover. Just the darkness in the back and then the girl in an amazing dress. Waw, just waw. The back of the book says the following: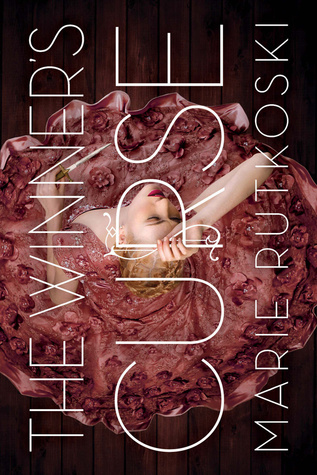 As a general's daughter in a vast empire that revels in war and enslaves those it conquers, seventeen-year-old Kestrel has two choices: she can join the military or get married. But Kestrel has other intentions.
One day, she is startled to find a kindred spirit in a young slave up for auction. Arin's eyes seem to defy everything and everyone. Following her instinct, Kestrel buys him—with unexpected consequences. It's not long before she has to hide her growing love for Arin.
But he, too, has a secret, and Kestrel quickly learns that the price she paid for a fellow human is much higher than she ever could have imagined.
Set in a richly imagined new world,
The Winner's Curse
by Marie Rutkoski is a story of deadly games where everything is at stake, and the gamble is whether you will keep your head or lose your heart.
I just want to underscore that this book sounds amazing and thrilling and suspenseful. I mean "a story of deadly games"? YES! Kestrel hiding her growing love? HELL YES! And him having secrets? I can only imagine how this will go...
The reviews I've read about the book are very mixed. Some say they're very stereotype, others say they're relieved they finished the book and others say it's a good concept but are indecisive. However, the book does have a 4.04 stars out of 5 which I find a very good score for a book. Wendy Higgins, author of the Sweet Evil Trilogy says that "
If you enjoy forbidden love, twisty plots, well-built fantasy, and gorgeous prose, this is for you. Amazing!" What a coincidence... I love all the things she just summed up.
I'm really curious to this book and what it'll bring. Hopefully it won't disappoint me, but we shall see!
"
Winning what you want may cost you everything you love..."
2. Reboot by Amy Tintera
A book I only found in November but really would love to read in 2017! I saw the book in Dutch in my local bookstore and first, I wasn't attracted to the book but then after a quick rundown of the other shelves, my eyes just went back to the book. And so I had to take it in my hands and read the back:
Five years ago, Wren Connolly was shot three times in the chest. After 178 minutes she came back as a Reboot: stronger, faster, able to heal, and less emotional. The longer Reboots are dead, the less human they are when they return. Wren 178 is the deadliest Reboot in the Republic of Texas. Now seventeen years old, she serves as a soldier for HARC (Human Advancement and Repopulation Corporation).
Wren's favorite part of the job is training new Reboots, but her latest newbie is the worst she's ever seen. As a 22, Callum Reyes is practically human. His reflexes are too slow, he's always asking questions, and his ever-present smile is freaking her out. Yet there's something about him she can't ignore. When Callum refuses to follow an order, Wren is given one last chance to get him in line—or she'll have to eliminate him. Wren has never disobeyed before and knows if she does, she'll be eliminated, too. But she has also never felt as alive as she does around Callum.
This is something I've never read before. It doesn't score as good as The Winner's Curse, 3.92 out of 5 stars but I think it's still decent and shouldn't be that bad. Especially after I read the back of the book! I'm really interested and curious to where it'll lead, it really feels like a dystopian read and I'm ready for that!
"
The perfect soldier is done taking orders."
3. Better Off Friends by Elizabeth Eulberg
A book that's been on my TBR-read for years, and I really mean years! It's about time I'm going to read this, ain't I? I don't know why this book always makes me doubt. I remember that the first time I found the book on Goodreads, I was sold and wanted to read it but now I don't know.
For Macallan and Levi, it was friends at first sight. Everyone says guys and girls can't be just friends, but these two are. They hang out after school, share tons of inside jokes, their families are super close, and Levi even starts dating one of Macallan's friends. They are platonic and happy that way.
Eventually they realize they're best friends — which wouldn't be so bad if they didn't keep getting in each other's way. Guys won't ask Macallan out because they think she's with Levi, and Levi spends too much time joking around with Macallan, and maybe not enough time with his date. They can't help but wonder . . .
Also with this book, the opinions are very different from each other. Some are absolutely hyped about it and others aren't at all. I think the thing that makes me doubt is that I don't want to be disappointed? I don't know really but I really want to get it off my list and try it out. If it's not good, then it's not a shame. I tried. The plan is to read this book for Valentine's Day since the theme is love or maybe not. So I'll keep you posted on what I think!
"A
re they more than friends or are they better off without making it even more complicated?"
These were my three books I really want to read in this new year! If you've read any of these books and have any comments on them, please don't hesitate to respond or send me a message! If you've got other books you want to recommend, please do! I'm always looking for new books.