It's finally time for the last book I have to read for my Dutch class. Don't get me wrong, I love reading books for sure! Even in Dutch, the only thing that bothers me with school is that they give you a list of books you may read. No personal preferences! And that's why I always come across books I like but also don't like. Yet this time I found a book that was worth a 4 out of 5 stars which is something special! The book

Whatever Makes You Happy is written by William Sutcliffe

, the Dutch version is called Als Jij Maar Gelukkig Bent.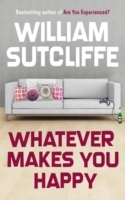 Three mothers decide that their sons need to grow up! Even though the three guys are all 34-years-old, they don't do what their mothers want from them. They aren't in a serious relationship, they have a job that's not good enough,... but most importantly: they don't give their moms grandchildren. So Carol, Gillian and Helen decide to go to the houses of their sons and to stay one week. One week to give them a wake-up call and make sure they're back on the right path. But soon the mothers find themselves in a harder position than they thought and can only say one thing to their sons: Whatever makes you happy.
Why would this book be worth 4 stars you might ask? What makes this book different from the other books that I've read for my Dutch class? It's actually pretty simple: it was hilarious! And I'm so glad that I picked this book up from the library instead of the other book that I originally had in mind. I haven't laughed so hard with a Dutch book in quiet a while. And that's all because of the roles of the mothers and their unknowing sons.
The first family I'll discuss are Carol and her son Matt. I laughed the hardest with this two. Just because Carol loves to snoop around and check things out in the apartment of her son. This obviously brings her in very awkward but hilarious situations where she'd find the best comeback for and gets away with it. This is why I really loved Carol, she'd do anything to follow her Matt without being seen, even if it means talking to a random person as if she's really interested. As for Matt, he was not that special to my opinion. He just reminds me a lot of my brother because he's represented as a gamer that doesn't stop gaming at all. He's also a womanizer something his mother does not appreciate!
The following family that we get to see in this book are Helen and Paul. I adored this family most because they were nice to each other (at least in the beginning) whereas the other two families are more rude and the moms will say what they want to say even if it hurts! Helen has always been a very pretty woman and she's now struggling with how she looks and we also get to know more of her relationship with her ex-partner. She's still really tortured by her ex-partner and can't stop thinking about how bad he's been and how a jerk he is. This will cause tension between her and her son. Also Helen is a woman that gets upset pretty easily and will start shouting very fast which made me frustrated with her. Because of that I could really relate and live up to Pauls reactions! Paul is the most different from the other two sons, he's gay and he doesn't want to tell this to Helen even though she already knows. What did bother me the most with this family is that we didn't see Paul that often, it was more about Helen so that was a little disappointing because I really liked Paul!
The last family we get to see in this book were Gillian and Daniel. Gillian was just straight forward! She just walks in tells her son what she's going to do and BAM she's staying for an entire week. What did bother me a little with Gillian is that she wants to pressure Daniel a lot, and that while Daniel himself has problems he doesn't want to tell his mother. Which brings us to Daniel, he's lovesick. This makes him also very different from the other two sons in this book! In his part in the book we see more flashbacks so that we can understand what has happened and why he's so depressed. Later his mother will find out and try to make him happy by giving some advice and say that he has to do whatever makes him happy.
So that's for all the important characters in this book, now some more about the plot. As I already said in the synopsis of the book the mothers will go to their sons and stay an entire week to give them a wake-up call. The plot won't go any crazy on you and it will not be very confusing. Now you might think that it's actually a pretty boring book but the story is good because it's hilarious!
Mostly because the mothers each live up to what was "cool" and "good" in their own time and because they're so obsessed with getting grandchildren. They won't stop at anything and will tell their sons what they need to do! This brings many scenes that are funny but don't worry, there will also be serious parts in this book that even give pretty nice life lessons and advice!
Although we see some more of the mothers than the sons, it's not that bad. The story is divided between the 3 families that are also connected and there are multiple chapters with each character so the sons will come around often. There are some special parts and some surprising parts that you never thought would happen but there aren't plenty of those.
What I did absolutely love in this book was the flash forward to a year later so we could see how the families have changed and if they have changed at all! This didn't bring any hilariousness but it did bring one of those surprising elements and it even ended more differently that I had imagined!
This book was one of the only books that I enjoyed for my Dutch class and I also know exactly that I liked it whereas with the others I had a more doubting mood. This book was refreshing, something I never thought I'd enjoy and also very funny. Above that William Sutcliffe has a very fluent writing style and you won't be left with questions or confusion! Do I recommend this book? It depends if you can enjoy the same humor as me! But if you want to try it out and read it, please do whatever makes you happy... ;)
"Just reassurance that our problems aren't because we're crazy or weak or stupid - that other people have the same difficulties."